If you want to study in USA, as an international student, you will need to obtain a student visa for the USA. Applying for a US student visa is a time consuming process, so make sure that you start preparing well advanced — at leas 6 to 8 weeks before your course is due to start, but the earlier is the better.
Types of US student visa:
F-1: Not the formula 1, it is the most common type of student visa. In general, this visa is for high school or college/university (including language program) study in the United States, which is mostly sought by the undergraduate and graduate students. The good thing about F1 visa is that it does not have a cap, any bonafide student who manages to fulfill the requirements and have a successful application will be eligible to get the visa.
With the F1 visa anyone can live and study in the US, get state ID and driver's license (upon passing the test), open a bank account, travel in and out of the US anytime and work under certain conditions and restrictions. You will have the privilege to transfer schools if you get accepted to an institution later.
M-1 visa: Not that popular, If you plan to engage in non-academic or vocational study or training at a US institution then you need M-1 visa.
To know more in details about each type of visa you should visit Education USA website.
Steps of getting an F-1 visa:
Get accepted to an SEVP approved institution:
You can only apply for a student visa once you have been accepted to an SEVP (Student Exchange and Visitor Program) approved US institutions. All US schools that enroll F-1 and/or M-1 students must be endorsed by this program.
Once you are accepted to a program in US school, the university will enroll you in the SEVIS system, and you will be given a SEVIS generated document called Form I-20 for your F-1 visa.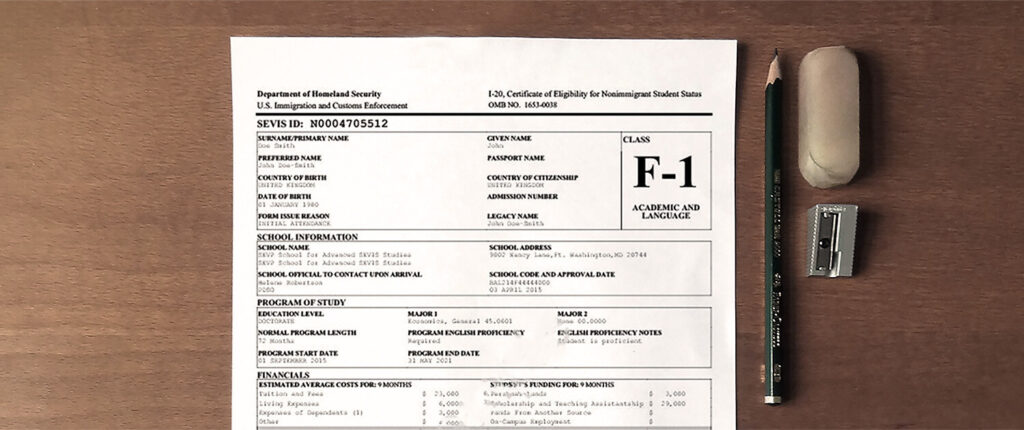 Proof of financial eligibility:
Getting accepted into a school, does not comes with a guaranteed Form I-20 and a US visa, subsequently. The F1 students should proved that they have sufficient funds in their bank accounts to cover the expenses of studying and living in the US. If you get any sort of funding or scholarship from US schools, then it will be considered as a secured source of funding for your study and living expenses.
Receive form I-20:
Once your financial solvency is established, your I-20 form will be generated and the school will mail the form to you. On this form, your SEVIS ID, your school address, and other critical information regarding your program will be provided. You must present this form during your VISA interview.
Pay the I-901 SEVIS fee:
Once you receive your I-20 from your school, go online and pay the I-901 SEVIS fee. The fee is 200 USD for F-1 students, and you can pay it by credit card. If your country of citizenship or country of birth is Cameroon, Ghana, Kenya, Nigeria or Gambia, you will not be able to pay the fee by credit card. You must pay by money order, Western Union Quick Pay, or certified check drawn on a U.S. financial institution. You should obtain and print a payment confirmation from the website at any time after paying the fees. During your interview, you might need to show the proof of payment.
Complete the visa application:
Once you are done with paying SEVIS, you should schedule an appointment with a US consulate or embassy for the VISA interview ASAP. Don't think that you will get an immediate appointment for your visa interview, once you paid your SEVIS fee. Waiting times for the interview swing widely by location, season and visa category, so you should apply for your visa ASAP. If your visa is approved it van be issued up to 120 days in advance of your course of study commencement date, though you will only be allowed to enter the US with an F-1 visa 30 days before your program starts.
Completing the form DS-160 online:
The US non-immigrant student visa application is also known as Form DS-160. Personal details required to complete the DS-160 form include:
Name and date of birth
A visa photograph (to upload)
Address and phone number
Passport details
Details of travel plans
Details of previous US travel
Your point of contact in the US
Family, work and education details
Security, background and other information
SEVIS ID and address of US school/program that you are going to be enrolled
Make sure that your photograph fulfill all the requirements. You should answer all the answer accurately; never lie — this is the thumb-rule for getting any VISA. If you get caught lying later, you may end up having a permanent ban. However, if you get confused while filling the application form, you may find answers to your questions on the travel.state.gov website.
Pay the VISA application fee:
You have paid the SEVIS fee, and you have to pay the visa application fee to schedule your interview. The fee payment methods vary based upon your country of residence, so make sure ti check it. In person at an approved bank — is the most common procedure for paying your visa application fee. And, don't forget to keep the fee receipt with you on the visa interview day.
Attend your F-1 VISA interview:
This is the final step — either you will be getting your visa, or will be rejected. Before you attend make sure you have all the required documents with you. These documents may include:
Passport valid for at least six months beyond your period of stay in the US.
Signed SEVIS Form I-20 or DS-2019 (including individual forms for spouse/children)
SEVIS fee receipt
DS-160 application confirmation page with barcode and application ID number
VISA fee payment confirmation receipt
Printed copy of visa interview appointment letter
1–2 photographs in the format explained in the photograph requirements. Should be printed on photo quality paper.
Your particular embassy may require additional forms and documentation, such as:
Official transcripts from colleges/universities you've attended
Diplomas/degrees from high schools/colleges/universities you've attended
Standardized test scores (if required by your US school)
Proof of sufficient funds
Proof of your intent to depart the US at the end of your program
Please arrive on time for the interview — late applicants may be asked to reschedule for another day. You will go through a rigorous security check and your digital finger prints will be taken as a part of your application process just before the interview.
The purpose of the visa interview is for the consular officer to determine your credibility for getting the F-1 visa. You will be asked regarding your academic background, the program in the US to which you have been admitted, about your research plan, your ties to your home country, proof of financial resources, and, obviously, your plan after your graduation. For more details about the F-1 visa interview you can read this article.
After your interview:
Your VISA has been approved !!!
Everyone after the interview would like to hear that. However, the consular officer might put your name on further background check — which is known as administrative processing, which requires you to to wait additional time for receiving your visa. This administrative processing times vary depending on country. You will also be informed how and when your passport with the visa will be returned to you.
Some final words:
f you are fully funded by the school that you will be attending, it is highly unlikely that your visa will be rejected. However, under certain circumstances you may denied an international student visa. This typically only happens when you fail to fulfill a certain requirement before or during your interview. As there is no guarantee you will be issued a visa, do not make final travel plans or buy tickets until you have a visa.
Disclaimer: No A.I. was used to generate any portion of this content.
(Visited 35 times, 1 visits today)