As a budget traveler, most of us often look out for cheap deals at the last minute or even months before the travel date. And, finding a cheap deal becomes hectic if one does not know how to book cheap flights. Here are some tips to to help you book the cheapest ticket possible.
Search in "Ninja Mode":
Probably, you have just started to look for a flight, the price popped up seems to be OK, and you thought you would find better. Suddenly, you have noticed that the price is increasing little by little!!! Now, you are panicking. Have you selected the right day? Have you chosen the right airport? How can the cheapest flight price from yesterday just disappeared after 2/3 days!
Cookies' in your browser are tracking your searches and feeding the most frequent and popular back to the sites which bumps up the once attractive prices. This turns your 'Panic Mode' on, and drives you to book flight quickly before prices get even higher. Therefor, it is always suggested to search flights in 'incognito' or 'private browsing' mode to see the lowest price. Incognito mode works the same as normal browsing mode, except the fact that your cookies get reset each time you re-open an incognito window.
Buy Early:
To avoid high price, you have decided to book your fight earlier, but how many days in advance? According to CheapAir.com annual airfare study,
"The price of a flight changes on average every ~4.5 days, and each change averages $33 up or down"………
And,
"International flights stay fairly flat for a few months, then start to creep up slowly, until about 90 days before departure when the place of increase starts to accelerate."
The above data shows that you will find cheap flights to some destinations if you book far in advance. However, this is not necessarily true across the board. The travel experts from FareCompare also suggested that the cheapest days to fly beyond the border are between five and half months and one and a half months from departure.
For the domestic flights, the prime booking window opens 112–21 days advance before your departure day. Here is a quick summary about the domestic flight booking timeline.
In short, don't book to early, but don't delay either. Remember the house always wins — so it is advised that if the given price has a close match with the number that is playing around in your mind, then you might consider to book the flight immediately.
Buy Late!!!:
Though this header seems controversial, sometimes you will find tickets at the final hour for a great price if the airlines have failed to fill their planes. Sometimes there occurs a last minute cancellation, and the airlines just want to fill their planes as quickest as possible. Therefore, they cut down the price heavily, if there is only one ticket left.
So, if you can hold your nerve tight then you might consider to book your flight at the eleventh hour. One of the best place to find last minute deals from LastMinuteTravel.com. You might also consider to look on the airline website. However, this does not work for domestic flights, you have to pay a heavy price if you wait for the last minute for your local flights.
Be Flexible:
Plan around the cheapest travel date — if you have flexibility in your travel date then there is a high chance that you will crack a good deal. Usually, the booking sites will show you the price of the tickets that includes +/- 3 days from your travel date, if you tell them that you are flexible.
However, if you plan to fly just ~1–3 days before any major holiday begins e.g. Christmas, New Year's Eve, Thanksgiving then flexibility with your travel date might not save a big money.
In that case, and also if you can't be flexible when you fly, you should have a relaxed route. For example, if you fly to big cities then there might be multiple airports which will probably be more or less 1–2 hours of drive from your desired destination. Or, if you live in a small town, then fly to the closest big cities will save you a tons of money. You might consider to take a bus or train ride to your hometown. You also might think of renting car, which will be an one way ride to your desired destination, and in that case you have to drop the car to the local car rental office of the same car rental agent.
Keep in mind that the airline ticket prices vary widely depending on the day of the week, time of year, and upcoming holidays, such as Christmas, New Year's Eve. The airlines know when a major festival, a long holiday, major sports event, school break, or commencement of a new semester is coming up — and they will raise the price accordingly. So, If you are going to fly when everyone is flying, then it is quite obvious that your ticket will cost you more.
Use Multiple Flight Search Engines:
Don't leave any stone unturned while you book your flights — search for cheap flights on multiple websites. No single search engine is consistently perfect, and some search engine will show inflated price than others. So, it is always advised to look for flights on different flight search engines, and the major air-carrier websites as well. Below are list of some websites which might be useful to you:
Budget Airlines might be the Savior: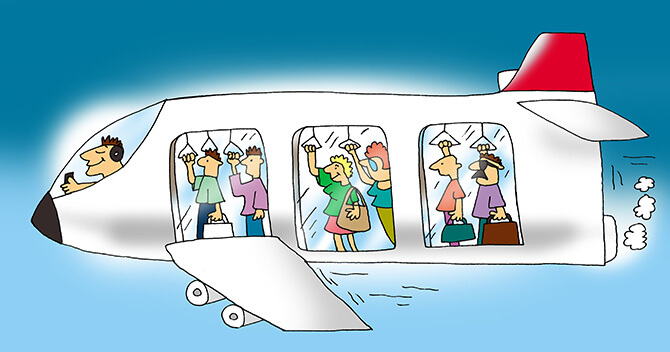 Budget airlines offer significantly cheaper tickets than the bigger airlines. Choosing to fly budget comes at the cost of some extra efforts. Please keep in mind that, budget airlines does not operate from all major airports. Sometimes you have to fly from another airport in the closest big cities from your home. The distance might be a 2 hrs drive or you might have to travel overnight by bus to catch the cheapest flight via budget airlines.
Also, you will have to sacrifice the extra space and legroom, free food, drinks and movies — because those are only offered on bigger carriers. But, losing these extra amenities to get a cheap flight is definitely worth it.
Budget airlines might not pop up on some major flight search engines. So make sure you check them individually online. So, before you book your flight on budget carrier, you should do as follows:
Check the location of airport. You might get super excited on finding a 80 bucks flight, but the carrier will fly from further out of your town.
Remember to book and pay for any checked luggage. If you can bag everything through the strict restrictions on hand luggage, do it. Don't chance it, if it does not fit or weighs more you will be charged a hefty amount of money at the airport.
Read the fine print. The best example is that Ryanair will charge a fee if you do not print your own ticket or adhere to their strict luggage weight and dimensions. A warning of this fee is clearly stated in all capital letters in the first sentence of your e-confirmation. In a nutshell, always read and follow instructions!
Here comes a list of the budget airlines:
Canada
United States
Australia
New Zealand
Asia
Europe
For more budget airlines check out Wikipedia. You'll find a huge list of low-cost airlines down to specific countries here. If you're going to a specific country, it's worth checking so you know all your options so that you can manage cheap flights.
Hidden City Ticketing:
Long ago, frequent flyers discovered a trick known now as "hidden city" flights. In sum, sometimes a flight that connects in a city you want to go to is cheaper than flying directly to it. So instead, you book that cheap flight which connects in your desired city and hop off there, not taking the ongoing connection. Before you do so, you need to consider the following things:
It is best to have carry-on luggage only. If your luggage is checked, it will go to the final destination.
You may not be allowed off the plane.
There is a web search engine named Skiplagged.com which finds hidden city tickets for you. You might consider to use this approach, but use it at your own risk.
Use Your Frequent Flier Miles:
If you are a frequent flier, then it would be wise sign up for airline rewards programs. Make sure you sign up with a major airlines because they have flights to all sort of destinations, and you will also be able to earn miles on their partner flights. For example, if you fly Singapore Airlines, you will earn United Airlines miles because they are partners. You can earn a lot of miles through credit card sign up bonus, online shopping, surveys, special offers, and more. I earn over a million miles a year — without flying or spending extra money. That translates into dozens of free flights (often in business class) for myself and my family. If you are smart with your money and collect points and miles (the art of "travel hacking"), you can travel around the world for very little (and often free).
Check Foreign Currencies:
Sometimes you will find it cheaper to book a flight if you pay with the currency of the destination you are departing for. Budget airlines typically make you pay in the currency of the country you are departing from but not always. Most airlines will have an option on the page to change the currency. Before you do this, make sure you are incognito and the location setting on your device is off or you have a VPN activated. Booking a flight and paying in a different currency could save you a small fortune but only if you're using a credit card free of foreign-transaction fees! Otherwise your attempts to save money doing this will be lost!
Think smart, be flexible and get a cheap deal. If you follow the above mentioned tips, you will always get a great deal, save yourself time, stress, and have a small fortune.
Disclaimer: No A.I. was used to write any portion of this content.
(Visited 71 times, 1 visits today)